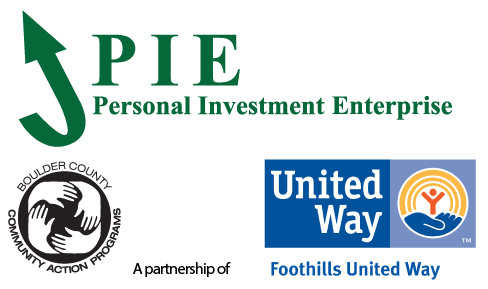 Are you interested in receiving $4,000.00 towards starting a new business, secondary education, or first time homeownership?
Do you want to save and gain financial advice in the process?
The Personal Investment Enterprise Program is a local savings program provided through Community Action Programs of Boulder County and Foothills United Way that is designed for low-income families to save through opening a matched savings account and taking financial education classes. The program matches participant savings at a rate of 4 to 1. For every $25 saved, the program matches $100 toward the asset purchase.
For qualification information contact the Personal Investment Enterprise (P.I.E.) program at: http://www.bouldercountypie.org OR 303-441-3998
If you are interested or know any individuals or families who would be interested in this program, please contact Nino Gallo, PIE program Coordinator at Boulder County Community Action Programs at 303-441-3998 or ngallo@bouldercounty.org. We have orientations every month in Longmont and Boulder and can arrange meetings in Broomfield as needed. We now have four openings for Broomfield residents!
Rosemary Thompson | Personal Investment Enterprise Coordinator Foothills United Way
Serving Boulder and Broomfield Counties
1285 Cimarron Drive, Suite 101, Lafayette, CO 80026
Phone: 303-444-4013 | Direct: 303-895-3412
Rosemary.Thompson@unitedwayfoothills.org | #LIVEUNITED on: Facebook | Twitter | Instagram
Foothills United Way drives innovative, collaborative solutions to achieve
Attainable Housing – Community Resilience – Strengthening Families for Early Childhood Success